Better Sleep for Seniors – A comprehensive Guide
It might seem strange to devote a guide to sleep for seniors. After all, seniors have had decades of practice sleeping! Why, then, is it worth discussing sleep in seniors?
Put simply, there are a lot of misconceptions and myths about sleep and seniors – how much sleep they need, the effects of naps, sleep problems that come with old age, and so on. The ideal sleep needs and habits of seniors are different than younger adults. Too often, the value of sleep is underestimated by seniors, despite the fact that it plays a huge role in overall health and well-being. We think that merits further exploration of the topic.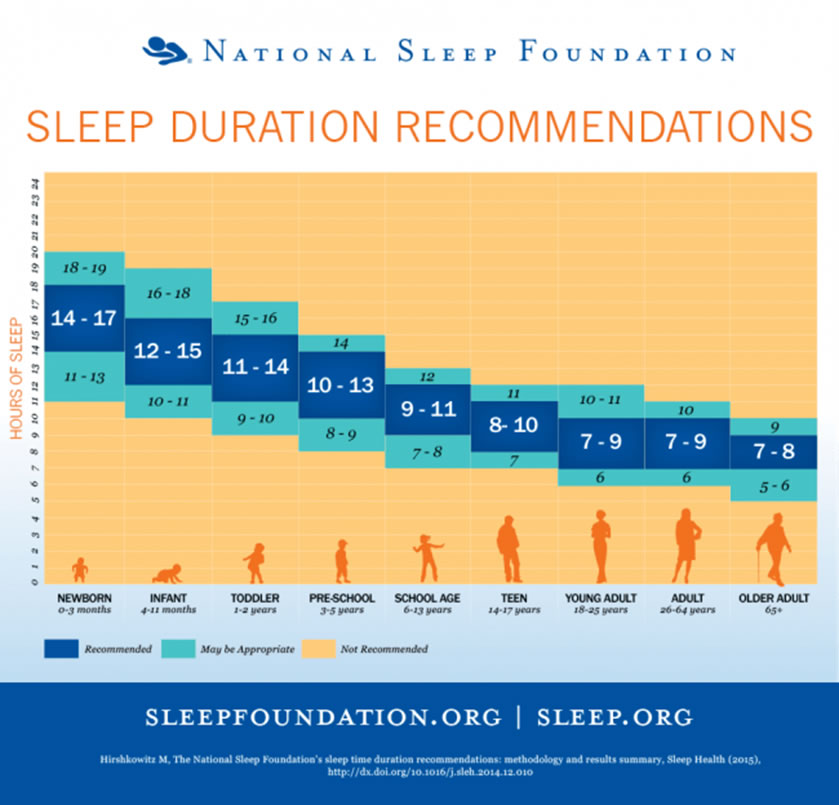 PLEASE VIEW WEBSITE FOR COMPLETE DETAILS
The Complete Guide to Independent Work for Seniors and Retirees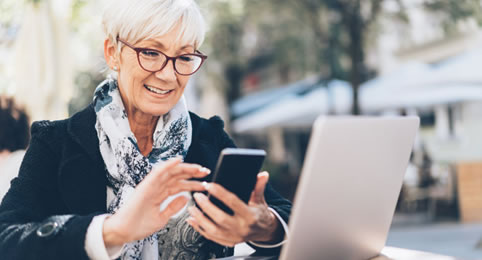 Table of Contents
Benefits of Working During Retirement
Phased Retirement
Types of Employment
Recommended Jobs for Seniors
Resources for Seniors
Retirement looks different for everyone. Some people dream of playing golf and visiting their grandchildren, while others see it as an opportunity to learn new skills and travel more. No matter your vision for retirement, working as a senior could offer you some significant benefits—even if it's part-time or consulting work. Whatever your reasons for working in retirement, it can reap you personal and financial rewards both now and in the future.
SEE COMPLETE DETAILS ON WEBSITE
The complete medication management guide for seniors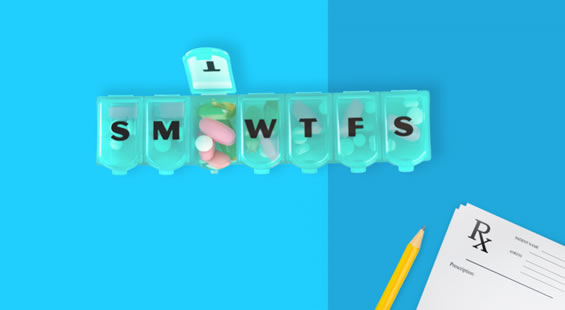 Given the risk of chronic disease increases for all of us as we age, it's not surprising that two out of three older Americans have multiple chronic conditions. These conditions often involve complex treatments, like juggling a handful of different medications. That's why we put together this toolkit. This medication management guide will empower seniors, caregivers, and family members with helpful information about medication use, storage, organization, and more.
In this guide, you'll learn how age changes our response to medication, and how to keep track of the medication you're taking. You can also find out how you can reduce your medication error and drug interaction risks.
Throughout this guide, you'll find tips for becoming a more active part of your own health care. We believe education empowers you. Of course, it's important to always check with your doctor or pharmacist before you take any new medication or make changes to your medication regimen, so be sure to ask your healthcare provider how the information in this guidebook can apply to your individual health.
PLEASE SEE WEBSITE FOR COMPLETE DETAILS

How to Identify and Avoid Scams Targeting Senior Citizens and the Elderly
Scammers will use any means to extort money from those they deem to be the most vulnerable. Often, they target senior citizens. Many seniors are targeted on a daily basis by predatory scammers and con-artists looking to take advantage of them, and keeping your elderly loved ones informed has never been so crucial.
If you're worried that you or a loved one is being targeted, this guide will help you learn about common scamming methods, how to avoid becoming the target of a scam, how to recognize signs that someone is being affected by a scam, and what to do when you've discovered that a scam has taken place.
Common Methods of Contact for Scammers
Those looking to commit fraud will use any possible avenue to achieve their goal. Your phone, email inbox, and even your front door can become entryways for those with malicious intent. Because any method of contact can be used to defraud you or your loved ones, constant vigilance is required. Let's discuss some of the most common methods of contact for scammers.
Phone/Telemarketing
Robocalls and pre-recorded messages: Most people are familiar with those annoying, automated phone calls that implore you to give away your personal information for a promised "free vacation" or some other alluring reward. These illegal calls are designed to gather information in order to steal from you, and robocall scams are on the rise.
"Unknown number" or number spoofing: Callers may block their number or use voice over IP software to trick phone networks into believing that they are calling from your area code. Both of these tactics can make it unclear whether the call is legitimate, often leading targets to answer these calls. This opens the door to them being manipulated and possibly scammed.
Email/Internet Browser
"Official looking" emails: Scam emails are very frequently designed to look like they originated from Microsoft or Apple. The emails may directly ask for your personal information or login credentials, or it may link to a phishing site — a website that tries to steal your information by tricking you into believing it is authentic.
Door-to-Door Scams
Information around your home or in your mail: Scammers may take some time to investigate your home before attempting to scam you. They often look for any stickers, notices, stray mail, and so on from known maintenance or utility companies on your property. Using this information, they will pretend to be an employee to gain access to your home and/or get your personal information.
PLEASE SEE MUCH MORE ON WEBSITE

The Best Home Security Systems Of 2019

Protecting your home 24/7 is easy with a monitored home security system. We've compiled a list of the best home security companies so you can find the right provider and package to help protect your family and belongings. Ready to compare providers? Explore our top home security systems to pick the best one for your needs.
SEE DETAILS ON WEBSITE
Social Security Disability Benefits Guide - in USA
Understand how Social Security disability works and how to calculate your benefits.
Social Security disability benefits can provide for your family when an injury, illness, or disability prevents you from working and earning an income. Applying for these benefits is often seen as a cumbersome process, however, requiring several steps, a slew of complicated paperwork, and even in-person hearings.
This guide will explain how Social Security disability benefits work while helping you determine whether your disability, illness, or chronic condition is enough to qualify. We'll walk you through each step of the process, and tell you what to expect during each stage of your Social Security disability application. Meanwhile, our disability benefits calculator will help you get an estimate of how much you might collect from Social Security disability or SSI if your case is approved.
Social Security Disability Benefit Calculator

MANY OTHER GREAT SUBJECTS ANSWERED ON THIS WEBSITE

Also See
Disability.gov's Guide for Family Caregivers




Here are a few things that may help you ensure your safety or of the elderly in your care


WHAT CAUSED THE POWER OUTAGE?


Natural disaster.
Accidents leading to power failure.


WHAT ARE THE IMMEDIATE RISKS?


Do you live alone?
Do you drive or own a car?
Do you have any physical, medical, thinking or learning limitations?
Smell.
Hearing.
Mobility.
Vision.
Communication.
Are you reliant upon any medical equipment or assistive technologies?
Are you reliant upon a caregiver?


HOW WILL THE POWER OUTAGE IMPACT YOU OR THEM IN THE NEXT 72 HOURS?


Below you'll find helpful checklists for when there's a power outage in your area—covering different scenarios and circumstances.
PLEASE VIEW MORE DETAILS ON WEBSITE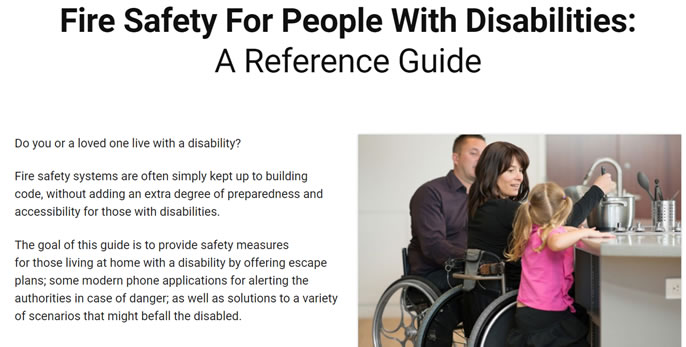 GO TO Home Page - The Guide To Fire Safety For People With Disabilities

Table of Content
1- Fire Safety For The Visually Impaired
2- Fire Safety For The Hearing Impaired
3- Fire Safety For The Mobility Impaired
4- Fire Safety For Multi-Resident Buildings (example: senior living or households with more than one disabled person)
5- Smartphone Apps For People With Disabilities
6- Fire Escape Plans For People With Disabilities
7- Sources
Additonal Resources
Printable Fire Safety Tip Sheets from the NFPA
Fire Safety Guides For Kids (Also Includes A Section For Kids With Special Needs)
Fire Safety Tips For Seniors (A Quick, Well-Illustrated Tutorial from the NFPA)
An Interesting Discussion On Quora: How do people in wheelchairs safely exit a multi-level building during a fire evacuation if the elevator is unavailable?
25 Tips To Make Home Safe For Seniors (Especially Those Living Independently)
Fire Safety For Wheelchair Users (including how to evacuate people with limited mobility)
A retiree's guide to hosting on Airbnb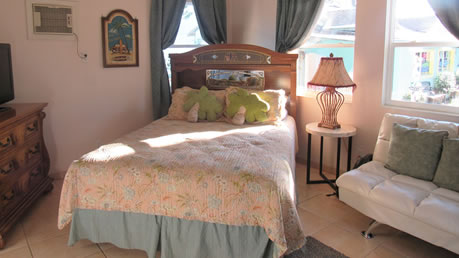 According to Airbnb, the number of experiences hosted by people 60 years and older has grown by nearly 1,100 percent over the past year. In fact, the United States tops Airbnb's list of countries with the most hosts in that age group.
Retiring (and aging as a whole) is sometimes associated with loneliness and withdrawal from social activities, but these Airbnb statistics prove that is far from the truth. Retirees actually comprise more than 50% of senior hosts on Airbnb.
SEE WEBSITE HERE FOR MORE INFORMATION


How Seniors Can Sleep Better
Sleep is one of the most important things we do for our health.
When a senior — or anyone — is sleeping poorly, it could be a symptom of a larger problem, like anxiety, or an undiagnosed illness. But sleeping better can also help cure these problems.
So for any seniors struggling with their health, a good first question is: "Are you sleeping well?"
More often than not, the answer will be: No. Half of seniors report some sort of sleep problem. Some of the most common sleep problems among older folks are:
Taking longer to fall asleep
Not sleeping as much
Waking up more often during sleep
Not feeling refreshed after sleep
Feeling drowsy during the day
Napping more often and longer
When we're young, stress is the most common cause of restless sleep or fragmented sleep. As we age, sleep problems are more likely to be caused by a physical issue. Studies show that 81 percent of arthritis patients, 85 percent of those suffering from chronic pain, and 33 percent of diabetes patients report difficulty staying asleep.
SEE WEBSITE FOR MUCH MORE INFORMATION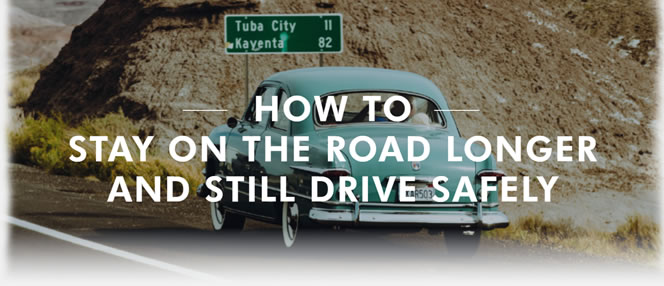 At some point, as we get older, we'll lose the excellent driving skills we had in our 20s and 30s. The stellar safety record we enjoyed in our 40s and 50s will also be gone.
Crash rates will start to rise in our mid-60s and early 70s, then accelerate after 75. We'll be headed to the day when someone will tell us we can no longer drive.
PLEASE VEIW MUCH MORE ON THE WEBSITE
Home Security
Fire Safety
Preparing for storm season
Gas and electric safety
Medical emergencies
Beware of dubious doorknockers, online scams and phone intimidators
Everyone wants to feel safe and secure in their own home, and seniors are no exception. You can help your self or a loved one by creating a safe living place. Here's a look at some of the most common safety issues that affect mature-age homeowners, along with some handy tips to improve household safety.


Please view website HERE

Best Home Security System Companies
Before shopping for a home security system, you have to decide what level of protection you need. Do you want to set up a few security cameras to capture activity while you're away from home? Or do you need a professionally monitored home alarm system that will alert the authorities in the event of a break-in?
24/7 monitoring of your home can give you peace of mind in the event of a home invasion, fire or other emergency. Our guide helps you compare alarm system prices, home security plans and overall customer satisfaction across the best home security companies on the market today.
PLEASE SEE COMPLETE DETAILS ON CONSUMER AFFAIRS

How to Stay on the Road as Long as Possible
General Tips for All Drivers
Getting Around Without a Car
How to Tell Your Loved One it is Time to Stop Driving





Please view website HERE


Ultimate Senior Travel Guide
We devote thousands of hours of research to help you get Big Travel with Small Money. You support us by signing-up for credit cards through partner links which earn us a commission. Here's our full Advertising Policy.
Who says being a senior means you can't still travel like you're young? If you're older and looking to make the most out of your travels, there are plenty of ways to have an adventure – in comfort and style – without breaking the bank!
Whether you prefer to RV around the US or fly extravagantly across the world, you can travel well for pennies on the dollar by making the most of miles, points, and cash back from the best rewards credit cards for beginners, like the Chase Sapphire Preferred Card. These are all great picks for seniors, who often have healthy, well-established credit scores.
Some cards offer senior-friendly perks like airport lounge access and early boarding, and the rewards you earn can easily offset the cost of flights, hotels, and more!
With a bit of strategy and planning ahead, you can travel safely and affordably and achieve your dreams!
PLEASE SEE FULL DETAILS HERE
Over 750,000 hits have been generated since January - 2005